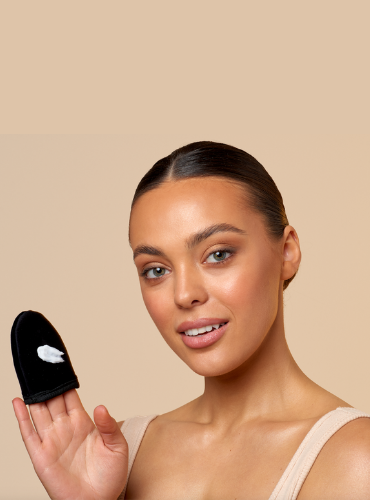 YOUR DROPS YOUR WAY!
OUR STEP BY STEP OF HOW TO USE OUR AMALFI GLOW DROPS
Just a Few drops as day of our Amalfi Glow drops in your daily moisturiser will leave you beaming all week long. Our biggest mission is to educate our community on how to use our products to achieve the best possible results and truely find your inner glow, and to inspire and empower you to embrace the things that make you, you. Our purpose is to give you the kind of radiance that's more than just the golden complexion of a carefree day spent at the beach, so here is our step by step on how to use the Amalfi Glow drops.
But First Why our Glow drops?
Our Amalfi Glow drops are formulated to be lightweight, cruelty free, vegan with a strong skincare side to give you that post Amalfi Glow all year round and well as nursing the skin daily. Our carefully selected key ingredients of Hyaluronic Acid, Vitamin C and E and Jojoba oil, help with anti-aging, hydration, Healing and help tackle condition like acne, eczema and psoriasis. But the biggest reason to use our Tan drops is that they are 100% customisable to you and only you, Your Drops, Your way. By adding the quantity of drops to you prefer to your daily moisturiser you can control the how much glow best fits you. It's the perfect Tan ratio gives you that golden glow without that FAKE tan look.
WHAT YOU NEED
The hero product : Amalfi Glow drops
The side kick: The Minori Mini Mitt
Your favourite moisturiser
STEP ONE: PREP THE SKIN
We always advise to prep the skin by exfoliating and cleansing your face and body so that it's as clean and soft as possible of any dry skin which can leave patches when using any faux tan. Check out our blog READY, PREP, GLOW for the best way to prep your skin before using our Amalfi Glow drops, which includes some of our favourite moisturisers and exfoliators to use in conjunction with our Amalfi Glow Drops
STEP TWO : APPLY MOISTURISER TO OUR MINORI MINI MITT
Apply your favourite moisturiser, oil or serum to our Minori Mini Mitt. The Minori Mini Mitt is made of a soft velvet with a water proof liner and designed to be used both on the face and body which allows you to keep your hands clean and also gets in the hard to reach spot, like ankles knees, wrist and neck, that most of the time when applying tan with you hands leaves streaks and patches. The Minori Mini Mitt allows you to evenly apply the Amalfi glow drops in all areas for the best result. The best tanning accessory you will invest in. ( we suggest to change you Minori Mini Mitt every 3-6 months )
STEP THREE : APPLY THE AMALFI GLOW DROPS
Your Drops, Your Way. Here is where you take control of how much glow you want, We advise for to firstly always spot test the product ( any product really ) this way you can determine what works best for you skin. For the best golden glow we advise the following
Face : Mix 2-4 drops into your daily moisturiser, oil or serum and apply evenly over face, neck and décolletage
Body: Mix 6 drops per body part into your daily moisturiser or body lotion and apply evenly over the body, focusing on those areas you desire a golden glow
Repeat for 3 nights to gradually build that gorgeous Amalfi Glow. Apply regularly to achieve a deeper, Sun-kissed glow.